We love helping our customers! Below are answers to the most frequently answered questions on our support lines. Take a look, and if the answer is not below, hop on over to our contact page to submit your question there!
Can you install my Timney Trigger?
Absolutely! For a cost of $40 for installation plus $35 for return shipping, you can leave it to the pros. Keep in mind that our Technical support department is always available during business hours to help walk you through any struggles you might run into when doing it yourself and we are always happy to help. Below are the steps to take to ensure your firearm arrives to us safely:
Use a plastic gun case inside a cardboard box to ship your rifle.
Remove all accessories, inclusive of but not limited to, scopes, slings and tripods.
Fill out and enclose the Gunsmithing Request Form Click Here to download. This form is required to comply with FFL requirements.
Name
Full Address
Contact Phone Number
Email address for UPS tracking purposes
Payment option – check for entire amount ($75 + retail price found at www.timneytriggers.com) or credit card
information
For liability purposes, we do need to ship the rifle back to you in a plastic case. If it arrives to us without a case, we can provide a case for an additional fee.
Any Privately Manufactured Firearm(s) (PMF) sent to us will be identified, rejected, and immediately returned to the shipper. Once a PMF is identified, we will make good faith effort to contact the shipper regarding the firearm and our policy pertaining to PMFs. When returning the firearm(s) to the shipper we will include information regarding our policy as it pertains to the updated ATF regulations on PMFs. As noted in our policy, the only exceptions to this will be PMFs that are brought in and returned to a customer the same business day.
We look forward to being of service to you and will contact you if there are any questions.
I have a Colt AR-15 with a sear block; Can I install a Timney Trigger in it?
Yes a Timney Trigger will work but the sear block will need to be removed. Timney provides this service to customers for the following fees: Sear Block Removal –
$55.00
Shipping - $25.00
Handling - $10.00
Install - $40.00
Should I use lube or oil on my Timney Trigger?
No lubrication is necessary as Timney uses Teflon nickel plating. It should be keep clean but doesn't need oil.
What if I have a polymer AR lower?
Timney has a special plate to put between the lower and our Timney Group. Give us a call or email and we would be happy to mail one out to you.
The Pins on my AR keep falling out?
Check the internal locking screws located under the hammer spring legs. Ensure those are tighten down prior to placing the set screws from the plastic baggy. (certain models excluded from set screws)
When I hold my rifle vertical, (pointing up), it won't re-cock.
This is caused from lack of spring pressure. You will need to increase the pull weight in small increments until the rifle will stay cocked.
I have an AR 7.62, what trigger do I use?
We recommend our AR-10 trigger model # 670 however our AR 2-stage or AR Calvin Elite are compatible with it as well.
How do I know if I have small pins or large pins?
Typically it's the mid 80's colts that have large pins, but if you measure the pins, small is .1540 and large is .1690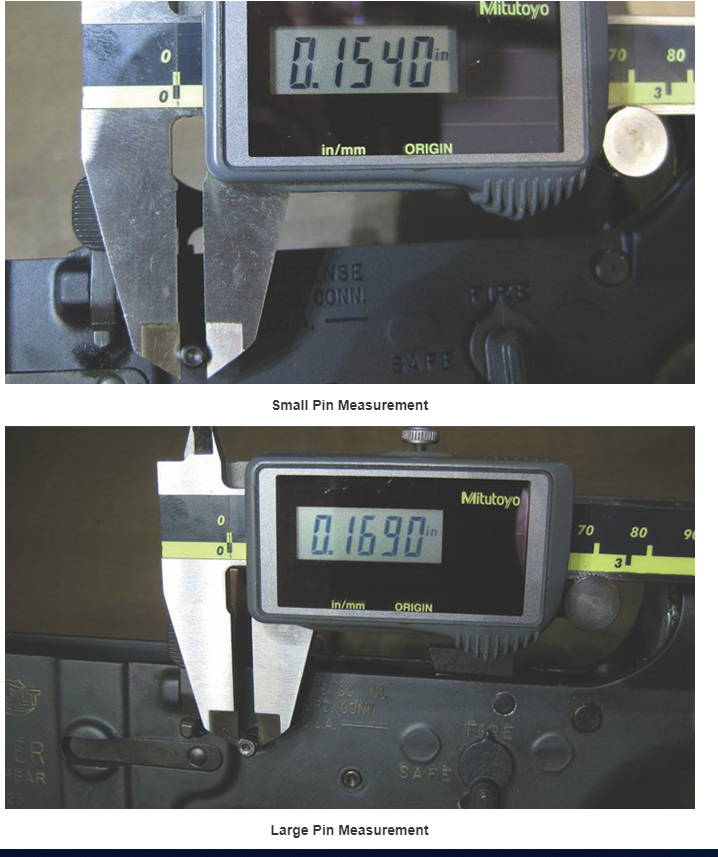 1st step double check if your internal locking screws located under the hammer spring legs are screwed down nice and tight. If everything is snug next step would be to check the spacing between the disconnect and hammer. When lowering the hammer the hammer should pass the disconnect as close as possible without touching. If spacing is not correct please contact technical support for additions support.
Installed Trigger, worked great until I put stock back on.
There is contact being made in the stock or trigger guard area- inletting is required. We recommend marking inside of the stock with something transferable like crayon, reinstall stock and then remove the stock to find the point of contact being made. Use a dremel to remove material from that area.
What's the difference between the factory Winchester 70 and 70MOA?
The 70 is in 3 pcs and the MOA is a contained unit (like the Timney)
The safety doesn't work on my Winchester 70?
Material will need to be removed from your safety cam

After installing my Mauser trigger and pull the trigger it is not firing or releasing the firing pin.
This trigger has a floating sear. You will need to check the sear slot to ensure there is enough room. With the bolt using a rod or a dowel to push the sear all the way forward and see if there is enough clearance in the sear slot for it to go far enough to drop and fire. If not material will need to be removed to elongate the sear slot.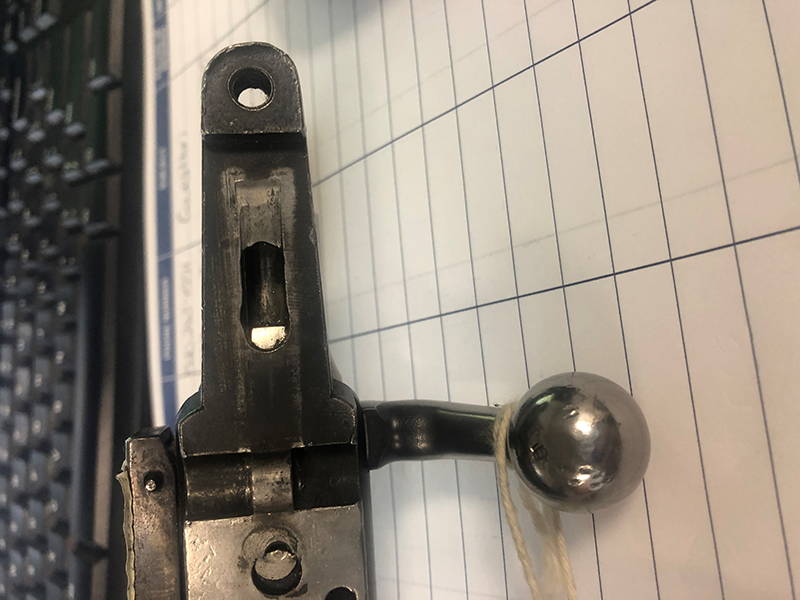 The safety on my Mark II doesn't work after installation with your #1100 trigger?
There is an area marked in blue on our trigger. This is where material will need to be removed in small increments until the safety functions properly.
I'm getting light strikes on my AR?
First, determine if you have the correct AR trigger for your rifle. Example: AR -15/22 would require a heaver spring as do larger caliber AR's
When I pull the trigger on my M77 rear tang, the firing pin moves but doesn't drop?
There is a little too much pressure being put on the sear. A small amount of material removed from the top of the Timney Sear should resolve that issue.
My Ruger 788 bolt keeps coming out?
You need a longer BSR, we would be happy to send you one out.
My Remington 788 bolt will no longer release or come out?
Removing a little material from the top of the Timney bolt stop release should solve that. Due to the variance in tolerance in the 788.
How do I clean a Timney Trigger?
Timney recommends using an alcohol based cleaner that evaporates easily. Ronsonol lighter fluid and Coleman White Gas both work well to remove dirt and debris and evaporate fully. Compressed air and the alcohol based cleaner are all that is necessary to keep your trigger clean.
My discount code doesn't work!
Beware of fraudulent coupon sites! There have been customer reports of misrepresented discounts for our products being circulated online. We do not share coupon codes with any of these coupon sites, so beware of scammers!
How do I install my Glock Trigger?